Savills Vietnam appointed exclusive leasing agent of Grade A office and retail building owned by CZ Slovakia.
 Savills becomes exclusive leasing agent of Alpha King projects
Savills Vietnam to manage Belvedere
 Savills Vietnam wins two Asia Pacific Property Awards
Savills announced on August 21 its appointment as the sole leasing agent for Friendship Tower, a new Grade A project developed by CZ Slovakia in Ho Chi Minh City.
The prime office and retail building will be Leadership in Energy and Environmental Design (LEED)-certified and located on the broad avenue of Le Duan in District 1, with investment of around $50 million. Ground was broken in May this year and the building is scheduled to be open to tenants in early 2020. The 21-story building has a gross floor area of 19,000 sq m and overlooks the US and French Consulates. Friendship Tower is also a symbol of the close connection between Vietnam and Slovakia, with diplomatic ties established in 1950.
According to CZ Slovakia, a location surrounded by well-known and iconic buildings in Ho Chi Minh City is a unique advantage for its new development. The project represents a symbol of friendship between the two countries, hence the tower's name. The basic and long-lasting architectural design is a combination of Western and Eastern culture, creating perfect harmony.
"Besides providing a flexible, modern and exceptional working environment, carefully selected building materials and technologies will be used in construction to achieve green building and ecological targets," said Mr. Nguyen Trong Mai Lam, General Director of CZ Slovakia Vietnam. "By combining contemporary design standards and high-quality execution, the building is expected to meet all the criteria of Grade A standard."
Friendship Tower is a boutique professional office building, with a conference center and café with F&B services. The building is designed under LEED Silver Certification standards and is set to be a location of choice for discerning tenants seeking high quality office space in a prime location.
Savills also signed a strategic partnership agreement on August 13 with Alpha King Real Estate Development to become the exclusive leasing agent for Alpha Town and Alpha Mall in Ho Chi Minh City.
Source: http://www.vneconomictimes.com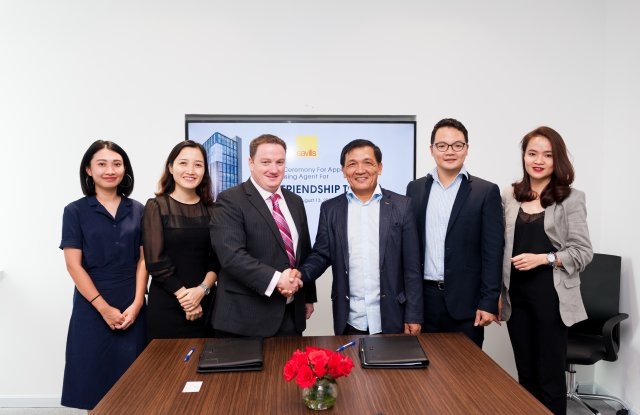 Photo: Savills Vietnam